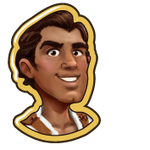 "My dear Yvette is nowhere to be found! We must find her... she is too sweet and gentle to be alone in the rugged wilderness!"
"Looking For Our Lost Lamb" is quest 6 out of 9 in the Rafael and Yvette Go Camping questline. You get it from Rafael after completing "Where, Oh Where, Can Yvette Be?".
Tasks
Explore to find Yvette in the wilderness near that old Ranger Tower.

Craft Exploration Crystals and construct Royal Buildings to explore.

Craft 3 Exploration Crystals to help you explore the wilds.

Craft Exploration Crystals in the Workshop.

Collect 5 Wooden Whistles so the searchers can attract Yvette's attention.

Ask your friends for Wooden Whistles.
Reward
"Yvette was in the Kingdom all along! Oh, I'm so glad that she's safe. There are Beasties in the wilderness!"
For completing this quest you will get

1,000 Coins and

20 XP, as well as 1 Big Energy Potion. You can then proceed to the Opposites Attract quest.
Facebook wall post message goes here
Ad blocker interference detected!
Wikia is a free-to-use site that makes money from advertising. We have a modified experience for viewers using ad blockers

Wikia is not accessible if you've made further modifications. Remove the custom ad blocker rule(s) and the page will load as expected.