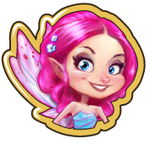 For the Cupids questline, see Love Hurts (Cupids). For the How Sweet questline, see Love Hurts (Mia).
"Make magic dolls that channel the destructive force of Hazel and Faugrimm's relationship. These might break through the Ice Bramble!"
"Love Hurts" is quest 3 out of 12 in the Battle for the Portal story line. You get it from Sylphie after completing "Cold Hearted".
Tasks
Destroy the Ice Bramble Wall.

Click on the Ice Bramble Wall to see how to destroy it.

Craft 1 Hazel Doll.

This item can be crafted in the Studio.

Craft 1 Faugrimm Doll.

This item can be crafted in the Studio.
Reward
"Wow, that Ice Bramble was destroyed by pure dysfunction... Maybe Faugrimm and Hazel should seek counseling?"
For completing this quest you will get

1,750 Coins and

35 XP. You can then proceed to the Blaze Through quest.

Not playing around!
These Hazel and Faugrimm dolls are adorable!
Too bad they don't play nice together...
Ad blocker interference detected!
Wikia is a free-to-use site that makes money from advertising. We have a modified experience for viewers using ad blockers

Wikia is not accessible if you've made further modifications. Remove the custom ad blocker rule(s) and the page will load as expected.