"Hmm… Alastair did say something about PERFORMING. I could be a SINGER! Yvette can give me lessons.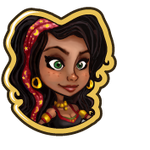 "Low Note" is quest 7 out of 11 in
The Diva
story line. You get it from
Izadora
after completing "
Good Fortune
".
Tasks
Gather 20 Honeys to sweeten Izadora's voice.

Clear Flowers to gather Honey.

Have 1 Horseshoe to swap for singing lessons from Yvette.

To Craft this item, you must have a Workshop, Quarry and a Blacksmith.

Have 10 Fairy Wings to give Yvette.

Ask Friends for Fairy Wings. Yvette wanted to be a fairy when she grew up!
Reward
"La la la LA! Hey, where'd everybody go? Why'd everyone run away screaming?"
For completing this quest you will get

5,250 Coins and

105 XP. You can then proceed to the "Drama Queen" quest in The Diva story line.

X Idol? Fans say...
No. Izzy couldn't sing to save her life. Or X's Kingdom.
Get a refund of free Coins!
Gallery
Ad blocker interference detected!
Wikia is a free-to-use site that makes money from advertising. We have a modified experience for viewers using ad blockers

Wikia is not accessible if you've made further modifications. Remove the custom ad blocker rule(s) and the page will load as expected.