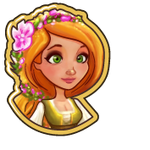 "Only the Unicorn Mage left to summon! With the Unicorn Friendship the mages become more than just the sum of their parts."
"Magical Friendship!" is quest 8 out of 8 in the The Seven Unicorns story line. You get it from Yvette after completing "Hope Springs Eternal ".
Tasks
Spend 75 Reputation.

Earn Reputation by helping Neighbors, then spend it on Market items.

Craft 2 Sweet Buns. Perfect for friendly gatherings!

Task 2 help text goes here

Fill the Friendship Unicorn bar with 100 points by crafting Friendship Bracelets.

Friendship Bracelets can be crafted in the Studio.
Reward
"We did it! We summoned all of the Unicorn Mages! Now we can free the Spirit Unicorn!"
For completing this quest you will get

1,750 Coins and

35 XP, as well as 1 Spirit Unicorn.

Friends forever!
X summoned the Unicorn of Friendship and freed the Spirit Unicorn!
Friends share experiences. Click to get some XP!
Ad blocker interference detected!
Wikia is a free-to-use site that makes money from advertising. We have a modified experience for viewers using ad blockers

Wikia is not accessible if you've made further modifications. Remove the custom ad blocker rule(s) and the page will load as expected.