"Stonehenge MUST have been designed by Giants. It's huge... and the Blueprints say it should be even BIGGER!"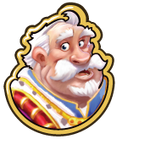 "Might be Giants" is quest 5 of 9 in the
Stonehenge
story line. You get it from
The Duke
after completing the
Just in Case
quest.
Tasks
Craft 5 Stone Blocks to help you build Stonehenge.

Craft in the Workshop.

Craft 10 Wood Planks to move more stones into place.

Craft Wood Planks in the Workshop.

72px

Make Stonehenge more powerful by building even more stone pillars!

Click on Stonehenge to construct the next stage.
Reward
"See? Look how huge it is! Stonehenge is perfect for Giants!"
For completing this quest you will get

1,750 Coins,

35 XP and 1 Stone Bench. You can then proceed to the "Rubble Rumble" quest in the Stonehenge storyline.

A crowd is gathering at the sight of Stonehenge.
X has made Stonehenge more powerful!
Come see what they have done and grab some energy to help finish yours.
Gallery
Ad blocker interference detected!
Wikia is a free-to-use site that makes money from advertising. We have a modified experience for viewers using ad blockers

Wikia is not accessible if you've made further modifications. Remove the custom ad blocker rule(s) and the page will load as expected.