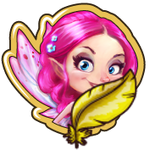 Mighty Wings is mission 5 out of 10 in the A Fairy's Tale story line. You get this mission from Sylphie after finishing the Winging It mission.
Quest Text
Wow, it's been so long since I had my wings, maybe a whole day! I need some flying practice to break in these new ones.
Tasks
Quest
Goals

Have 1 Bedding to break Sylphie's fall during test flights.

Tips: Craft Bedding in the Studio. You must also own a Tailor to craft this item.

Have 3 Wool Thread to make a guide wire.

Buy and place 6 Hedge Fences. They'll make a great obstacle course.

Tips: Purchase in the Nature section fo the Market.
Reward
Ah, like riding a toad - you never really forget how to fly!
For completing this mission you will get

1,000 Coins and

20 XP. You would also be able to start the Flower Child mission.
Ad blocker interference detected!
Wikia is a free-to-use site that makes money from advertising. We have a modified experience for viewers using ad blockers

Wikia is not accessible if you've made further modifications. Remove the custom ad blocker rule(s) and the page will load as expected.