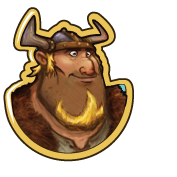 "These Fire Runes sure are powerful! We should secure the Viking Mine so they don't fall into the wrong hands!"
"Mine Sweep" is quest 7 out of 7 which you get from George during the "All in the Mine" quest line. It immediately follows the What a Blast quest.
Tasks
Place 6 Wood Fences to secure the Viking Mine.

Buy Fences from the Decor tab of the Market.

Craft 3 Super Clobbers for banishing Beasties.

This item can be crafted after you build a Workshop. Buy Crafting buildings in the Market.

Be ready to defend the Viking Mine... you never know what might show up!

Place Wood Fences then banish Yetis. Use a Supper Clobber to save energy!
Reward
For completing this quest you will get

1,500 Coins and

30 XP, as well as 1 Mining Cap and 1 ??.
Ad blocker interference detected!
Wikia is a free-to-use site that makes money from advertising. We have a modified experience for viewers using ad blockers

Wikia is not accessible if you've made further modifications. Remove the custom ad blocker rule(s) and the page will load as expected.