"Lost treasure? Now THAT'S an adventure! Can you help me get some stuff to make a map?"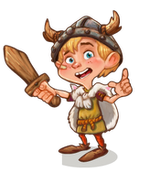 "Miner Treasure" is quest 5 out of 13 in the
Occupational Hazards
story line. You get it from
Baz
after completing the "
Rocksitting
" quest.
Tasks
Have 10 Parchment. Gotta have something to write on!

Parchment can be crafted in the Studio.

Have 5 Bottles of Ink so George can draw a treasure map.

Bottles of Ink can be crafted in the Studio.

Feed Peacocks 15 times to find a good quill for writing.

Feed adult Peacocks to get Peacock Feathers.
Reward
"I hope it doesn't take George too long to make that Treasure Map. This should be good!"
For completing this quest you will get

3,250 Coins and

65 XP. This completes the Miner Treasure quest. You can then proceed to the "Into the Deep" quest.

There's Gold in Them Hills!
X is about to hit the big time: buried treasure!
Grab some treasure of your own.
Gallery
Ad blocker interference detected!
Wikia is a free-to-use site that makes money from advertising. We have a modified experience for viewers using ad blockers

Wikia is not accessible if you've made further modifications. Remove the custom ad blocker rule(s) and the page will load as expected.