"There seems to be something lurking in the shadows. Let's find this mystery Beastie and banish it!"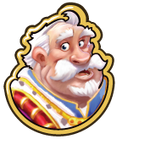 "Mischief Afoot" is quest 1 out of 12 in the
Over The Rainbow
story line in honor of St. Patty's Day. You get it from
The Duke
on March 14, 2012.
Tasks
Clear 2 Grass to see if anything's hiding in them!

Click Grass to clear it.

Tend 2 Flowers to see if you can find anything!

Click on Flowers to tend them.

Have 1 Pile of Sand to dust the ground and look for footprints!

Fish to find Pile of Sand.
Reward
"My word! It's unmistakable! These are... Leprechaun shoeprints. Fascinating!"
For completing this quest you will get

1,000 Coins,

20 XP and 1 Pot of Gold. You can then proceed to the "To Catch A Leprechaun" quest.

There's Mischief Afoot
X intends to find out who or what is behind it!
Join them in their search and take these coins!
Gallery
Ad blocker interference detected!
Wikia is a free-to-use site that makes money from advertising. We have a modified experience for viewers using ad blockers

Wikia is not accessible if you've made further modifications. Remove the custom ad blocker rule(s) and the page will load as expected.