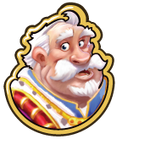 "Okay, I was wrong. Time is NOT ending. For now. But at least you have a nice Storage Cellar and , uh, lots of stuff to fill it!"
The "More in Store" is a mission you would get from The Duke. You recieve this Quest after finishing Restoration Preparation.This is the 5th mission from a series of 5 missions.
Tasks
| | |
| --- | --- |
| Quest | Goals |
| | Upgrade your Storage Cellar to hold at least 200 items |
| | Have 5 Thick Books so the Duke can read about time |
Reward
"Now you can pack away decorations between holidays. You can even make your Storage Cellar bigger when you need more space!"
For completing this mission you will get

1,500 Coins and

20 XP, as well as 1 Bottomless Pit . No More Quests for this Series.
Ad blocker interference detected!
Wikia is a free-to-use site that makes money from advertising. We have a modified experience for viewers using ad blockers

Wikia is not accessible if you've made further modifications. Remove the custom ad blocker rule(s) and the page will load as expected.