"More adventure? I climbed a mountain with two ewes. You must try it. Eh, maybe without the ewes. They smell."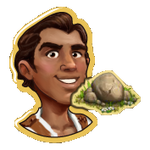 "Mountain Climber" is mission 6 out of 10 in the
Adventure Club
story line. You get this mission from
Rafael
after finishing the
Going Tribal
mission.
Tasks
Buy 10 Rocks, should be enough to make a mountain.

Buy Rocks from the Nature category in the Market.

Have 6 Ropes to climb your rock mountain.

Task description here...

Have 6 Coat of Arms to place on top of your mountain.

Task description here...
Reward
"You balk at nothing! Senor Shadow and his Beasties will tremble! How was the mountain? Could you see my house from there?"
For completing this mission you will get

3,250 Coins and

65 XP. You would also be able to start the Fire Sale mission.

X is on top of the world!
X climbed a mountain just because it was there!
Collect some of the free Stone they brought back as a souvenir.
Gallery
Ad blocker interference detected!
Wikia is a free-to-use site that makes money from advertising. We have a modified experience for viewers using ad blockers

Wikia is not accessible if you've made further modifications. Remove the custom ad blocker rule(s) and the page will load as expected.