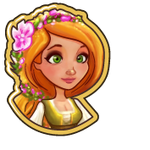 "Genevieve needs a man who makes her feel secure... We should help Quinn show her he's more than a starving artist!"
"Mr. Big Bucks" is quest 6 out of 13 in the To Woo a Maiden questline. You get it from Yvette after completing "The Friend Zone".
Tasks
Tend 4 flowers in Amouria to help Quinn show he can work with his hands.

Click on flowers in Amouria to tend them.

Collect 3 Love Dust in Amouria to prepare for the tasks ahead.

Click on anything in Amouria to find Love Dust.
Reward
"We're doing such a great job! Quinn will steal Genevieve's heart in no time."
For completing this quest you will get

1,000 Coins and

20 XP. You will then receive the A Crook's Hook quest.

Quinn Brought Home the Bacon!
Where did Quinn find all that loot? Genevieve isn't concerned about that, though.
Now I ain't sayin' she a golddigger, but if you're quick you can dig up a Gold Brick for yourself!
Ad blocker interference detected!
Wikia is a free-to-use site that makes money from advertising. We have a modified experience for viewers using ad blockers

Wikia is not accessible if you've made further modifications. Remove the custom ad blocker rule(s) and the page will load as expected.