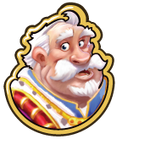 "The GEEZERS have a passion for disinfection. Make sure your Kingdom is eat-off-the-fertilizer clean."
"Mr. Clean" is quest 5 out of 6 in the GEEZERS Tasks II story line. You get it from The Duke after completing "Happy and They Know It! ".
Tasks
Have 6 Bars of Soap to wash your Kingdom from top to bottom.

Task 1 help text goes here

Tend 15 Royal Buildings in your Kingdom to give them a good scrub down.

Task 2 help text goes here

Decorate your newly cleaned Kingdom by crafting 5 Royal Banners.

Any Royal Banners will work. You can craft them in the Studio.
Reward
"Impressive! I am sure the GEEZERS never thought to personally hand-clean every subject in their Kingdoms!"
For completing this quest you will get

3,250 Coins and

65 XP. You can then proceed to the The Once and Future King quest.
Cleanliness is next to Kingliness
X's Kingdom is so clean you could eat your dinner off of it.
Quick, take this Ogre Blech from their Kingdom before it smells the place up!
Ad blocker interference detected!
Wikia is a free-to-use site that makes money from advertising. We have a modified experience for viewers using ad blockers

Wikia is not accessible if you've made further modifications. Remove the custom ad blocker rule(s) and the page will load as expected.