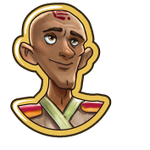 "I've always thought Quinn had a big head, but this is ridiculous. Let's cure his Cranium Embiggenus Curse."
"My Hat is Too Small" is quest 8 out of 8 in the Quinn's Curse story line. You get it from Alastair after completing "Nostrildamas".
Tasks
Have 6 Ropes to make sure Quinn's head does not get any bigger.

Task 1 help text goes here

Craft 2 Head Shrinkers. What better way to cure someone with a big head!

This item can be crafted in Myrick the Alchemist's Anti-Curse Sanctuary.

Craft 2 Leather to make sure the rope around Quinn's head doesn't slip off.

Task 3 help text goes here
Reward
"Ah, at last... Quinn is finally free of his many curses!"
For completing this quest you will get

1,750 Coins and

35 XP.
Quinn is totally cured!
X just cured Quinn... completely!
That was a lot of work, better take this Energy!
Ad blocker interference detected!
Wikia is a free-to-use site that makes money from advertising. We have a modified experience for viewers using ad blockers

Wikia is not accessible if you've made further modifications. Remove the custom ad blocker rule(s) and the page will load as expected.