"Those Beasties won't even know what hit 'em! I mean... If we can find any."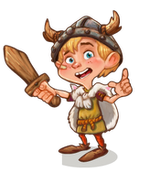 "My Stumps" is quest 2 out of 13 in the
Occupational Hazards
story line. You get it from
Baz
after completing the "
Smell the Roses
" quest.
Tasks
Chop trees 30 times to shake Beasties out of hiding.

Craft Super Chops to make chopping down trees easier.

Clear 5 tree stumps to see if anything lurks underground.

Click on tree stumps to clear them.

Craft 10 Super Clobbers for banishing Beasties.

This item can be crafted after you build a Workshop. Buy Crafting buildings in the Market.
Reward
Keep hunting for Beasties like that and the ladies will be flocking to your biceps in no time.
For completing this quest you will get

3,250 Coins and

65 XP. This completes the My Stumps quest. You can then proceed to the "Potion Commotion" quest.
X's Got Wood for Everyone.
X and Baz spent all day chopping trees to find Beasties, but all they found was these darn Wood Logs.
Take some Wood Logs off X's hands. There's plenty to go around.
Gallery
Ad blocker interference detected!
Wikia is a free-to-use site that makes money from advertising. We have a modified experience for viewers using ad blockers

Wikia is not accessible if you've made further modifications. Remove the custom ad blocker rule(s) and the page will load as expected.