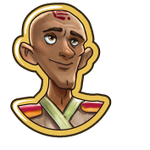 "In order to properly study this artifact, we must place it in a safe, open space."
"Mysterious Tower" is quest 1 out of 7 in the Inspiring Unicorns questline. You get it from Alastair.
Tasks
Place the Beacon of Arcadia in your Kingdom so Alastair can begin his research.

Find the artifact in your Inventory.
Reward
"Excellent choice of location. I believe that this artifact is magical and was constructed by the Architects!"
For completing this quest you will get

1,000 Coins and

20 XP. You can then proceed to the Young Unicorns! quest.
Facebook wall post message goes here
Ad blocker interference detected!
Wikia is a free-to-use site that makes money from advertising. We have a modified experience for viewers using ad blockers

Wikia is not accessible if you've made further modifications. Remove the custom ad blocker rule(s) and the page will load as expected.