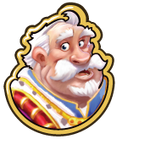 "Unicorns need a generous supply of glee, happiness, and Marshmallows. Maybe if we do this right the Egg will hatch?"
"Nest of the Unicorn" is quest 4 of 10 in the Eggstraordinary Evidence story line. You get it from The Duke after completing "The Unicorn Egg" quest.
Tasks
Feed 20 Animals - Animals bring joy to everyone!

Feed 20 Animals in your - or your Neighbors' - Kingdoms.

Harvest 10 Wheat to keep the Egg warm.

Wheat can be planted in any empty Farm Plot.

Build the Unicorn Nest.

Click on the Giant Egg to build a Unicorn Nest for it.
Reward
"That looks... amazing. Will the Egg hatch, though?"
For completing this quest you will get

1,750 Coins,

35 XP and 1 Energy Potion. You can then proceed to the "To Hatch a Unicorn" quest.

X is bursting with happiness!
X is making a nest for a baby unicorn and has some unrelenting joy to spare.
Spread your own happiness with this Reputation.
Gallery
Ad blocker interference detected!
Wikia is a free-to-use site that makes money from advertising. We have a modified experience for viewers using ad blockers

Wikia is not accessible if you've made further modifications. Remove the custom ad blocker rule(s) and the page will load as expected.