"Everyone is acting like themselves again! I feel so bad for putting them throught all this... will you help me apologize?"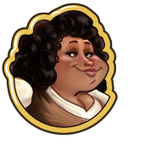 "Never Tasted So Good!" is quest 10 out of 10 in the Cooking Appreciation story line. You get it from Mia after completing "
The Antidote
".
Tasks
Have 10 Milk Bottles so Mia can apologize.

Task 1 help text goes here

Have 1 Batter to make bean-free Cupcakes!

Task 2 help text goes here

Bake 7 plain Cupcakes for everyone to enjoy!

Cupcakes are crafted in the Kitchen.
Reward
"Whew! Everyone back to normal! From now on, I think I'll bake the Antidote into the Whoopie Cake! That should make it safe."
For completing this quest you will get

1,750 Coins and

35 XP, as well as 1 Pot Belly Stove . You can then proceed to the first quest, Playing Detective , in the "A Study in Sweet Buns" story line.
X and Mia are baking Cupcakes for everyone.
Get free Bottle of Milk to have with your cupcakes.
Ad blocker interference detected!
Wikia is a free-to-use site that makes money from advertising. We have a modified experience for viewers using ad blockers

Wikia is not accessible if you've made further modifications. Remove the custom ad blocker rule(s) and the page will load as expected.