"So, you want a mighty horse o' your own? Put your training to use and see if you can win one!"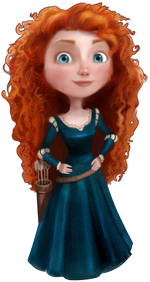 New Horse Smell
is quest 6 out of 9 in the
Brave
story line. You get it from
Merida
after completing "
Good, Better, Best
".
Tasks
Build a 2nd Archery Tent to unlock a new special arrow and double your arrow production!

Task 1 help text goes here

Craft 3 Quiver of Hefty Arrows.

The heavier your arrows, the less the wind effect your aim, therefore the better your chances of getting a bullseye are.

Win 1 Celtic Horse from the Archery Tournament.

Earn enough points in the Archery Tournament to earn the Celtic Horse and other rewards.
Reward
"Your new horse is almost as majestic as mine! May you two have many grand adventures together... after you've practiced your archery some more!" For completing this quest you will get

750 Coins and

15 XP. You can then proceed to the Bullseye quest.

A Celtic Horse for X
X now has a Celtic Horse just like Merida from Disney Pixar's Brave!
Take these free carrots in case you unlock your own Celtic Horse.
Ad blocker interference detected!
Wikia is a free-to-use site that makes money from advertising. We have a modified experience for viewers using ad blockers

Wikia is not accessible if you've made further modifications. Remove the custom ad blocker rule(s) and the page will load as expected.