"My wagon is mobile, but it's AWFULLY heavy. Can you help me move in?"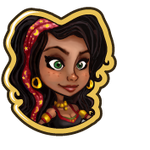 "New Scene" is quest 1 out of 10 in the
Party Girl
story line. You get it from
Izadora
. You get this quest immediately after finding her.
Tasks
Move Izadora's Wagon into your Kingdom.

Use the Design Tools to move Izadora's Wagon.

Change your Character's Outfit to fit the new fall fashion!

Customize your Character any way you see fit.

72px

Have Flower Boxes to make your kingdom more beautiful.

Buy the Flower Box from the Nature tab in the Market.
Reward
"Your kingdom looks FABULOUS. This is going to be PERFECT! Thanks, babe!"
For completing this quest you will get

500 Coins and

10 XP. You can then proceed to the "Drab to Fab" quest.

X's Kingdom just got GLAMMED!
Izzy's moved in to Beefington. It's party time!
Better stock up on Coins so you can party through the night.
Gallery
Ad blocker interference detected!
Wikia is a free-to-use site that makes money from advertising. We have a modified experience for viewers using ad blockers

Wikia is not accessible if you've made further modifications. Remove the custom ad blocker rule(s) and the page will load as expected.