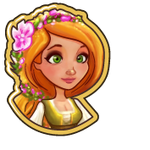 "Quinn needs a shiny new ride that will take him to Amouria to meet the future love of his live, Genevieve!"
"Nice Ride" is quest 1 out of 13 in the To Woo a Maiden questline. This quest was introduced on July 25th 2012.
Tasks
Place the foundation for Quinn's new Carriage.

Quinn's Carriage can be placed from your Inventory.

Finish building Quinn's Carriage to get early access to Amouria!

Click on Quinn's Carriage and collect the appropriate materials to finish building it.

Travel to Amouria by clicking on Genevieve's portrait in the Neighbor Bar after completing Quinn's Carriage.

Genevieve's portrait can be found on the Neighbor Bar at the bottom of the screen.
Reward
"I'm so excited that Quinn has made it to Amouria! He and Genevieve are going to love each other!"
For completing this quest you will get

1,000 Coins and

20 XP, as well as 1 Love Diary. You can then proceed to the Travel in Style quest.
Facebook wall post message goes here
Ad blocker interference detected!
Wikia is a free-to-use site that makes money from advertising. We have a modified experience for viewers using ad blockers

Wikia is not accessible if you've made further modifications. Remove the custom ad blocker rule(s) and the page will load as expected.