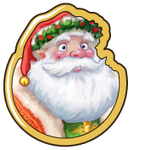 The 7th of 10 missions in the Winter Vacation quest chain obtained from Kris Kringle. It immediately follows the Stay on Target mission.
Quest Text
Just to be safe, maybe I should try and lose a few pounds before we try launching me again.
Tasks
Quest
Goals

Tips: Plant Cabbage in empty Farm Plots.

Carrot sticks are a healthy snack. Harvest 10 Carrots.

Tips: Plant Carrots in empty Farm Plots.

Give Kris Kringle something heavy to lift. Craft 1 Anvil.

Tips: Craft Anvil in the Workshop. Materials: 5 Stone Blocks, 5 Alchemist Powders. Crafting time: 9 hours.
Reward
These snacks are no Cookies, but at least I'll look good in a bathing suit for my vacation!
For completing this mission you will get

750 Coins and

15 XP. You will also be able to start the Sticky Fingers mission.
Ad blocker interference detected!
Wikia is a free-to-use site that makes money from advertising. We have a modified experience for viewers using ad blockers

Wikia is not accessible if you've made further modifications. Remove the custom ad blocker rule(s) and the page will load as expected.