"Before I must depart, could I bother you for a Saucy Tart?"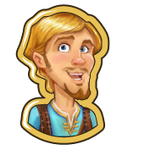 "One For The Road" is quest 3 out of 3 in the
St. Patrick's Day
story line. You get it from
Quinn
after completing the "
Exterior Decorating
" quest.
Tasks
Get 1 Apple Slice to Make some Saucy Tarts for Quinn.

Ask Friends for Apple Slices. You can also get this from fishing.

Buy 1 new Animal to gather ingredients from.

Buy new Animals in the Marketplace.

Make 2 Saucy Tarts for Quinn to eat on the road.

Saucy Tarts can be crafted in a Kitchen.
Reward
"That tart will do well to fill my belly. I think I will also have it with jelly!"
For completing this quest you will get

750 Coins and

15 XP. This concludes the St. Patrick's Day storyline.
Exterior Decorator
Quinn helped X spruce up their Kingdom with some St. Patty's Day spirit.
Get a Farm Plot to add a little green to your Kingdom too.
Gallery
Ad blocker interference detected!
Wikia is a free-to-use site that makes money from advertising. We have a modified experience for viewers using ad blockers

Wikia is not accessible if you've made further modifications. Remove the custom ad blocker rule(s) and the page will load as expected.