"The stench this Swamp is producing is affecting my taste buds. We can't wait any longer - we have to stop this now!"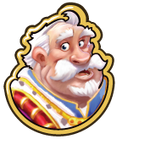 "One Small Step" is quest 3 out of 4 in the Swamped story line. You get it from
The Duke
after completing "
Stocking Up
".
Tasks
Prepare for the adventure an raise your Castle Level to 170.

File:Clothespin.png

Have 5 Clothespins to act as an impromptu scent deterrent.

Ask Friends for Clothespins.

Explore to investigate the new threats of the Gloom Swamp.

Raise your Castle Level, craft Exploration Crystals and collect coins to explore. You may have to explore several times to get there.
Reward
"We're on our way! Gloom Swamp, here we come! Who has the hand sanitizer?"
For completing this quest you will get

750 Coins and

15 XP. You can then proceed to the "Into The Dark" quest.
Into Gloom an Doom
X is investigating anomalies in the Swamp.
Take this Crystal Shard and join the investigation!
Gallery
Ad blocker interference detected!
Wikia is a free-to-use site that makes money from advertising. We have a modified experience for viewers using ad blockers

Wikia is not accessible if you've made further modifications. Remove the custom ad blocker rule(s) and the page will load as expected.