"According to the Blueprints I found, we're not finished with Stonehenge yet! It should be bigger... and more powerful!"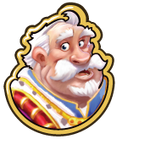 "Out Of Time" is quest 3 of 9 in the
Stonehenge
story line. You get it from
The Duke
after completing the
Gnome Mistake
quest.
Tasks
Mine 5 Rocks in your Kingdom to get more Stones to help build Stonehenge.

Click on a Rock to mine it.

72px

Make Stonehenge more powerful by erecting the large stone pillars!

Click on Stonehenge to construct the next stage.

Have 3 Constellation Maps to learn more about Stonehenge.

Ask Friends for Constellation Maps. The future is in the stars! You can also get this from fishing.
Reward
"The magic of Stonehenge lasted even longer this time... and we're not even finished building it yet!"
For completing this quest you will get

1,000 Coins and

20 XP. You can then proceed to the "Just In Case" quest in the Stonehenge storyline.

X has the stones to build Stonehenge.
X has experienced a small taste of what Stonehenge has to offer.
You'll need these logs to help support the Stones!
Gallery
Ad blocker interference detected!
Wikia is a free-to-use site that makes money from advertising. We have a modified experience for viewers using ad blockers

Wikia is not accessible if you've made further modifications. Remove the custom ad blocker rule(s) and the page will load as expected.