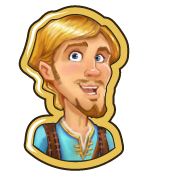 "Whew! Every leaf was hiding a Thief. I barely made it here!"
"Out of the Gloom" is mission 1 out of 5 in the Traveling Bard story line. You get this mission from Quinn after finishing the Wrapped in Chocolate mission.
Tasks
Quest Image
Task
Skip

Collect taxes from houses 10 times.

Click on the houses when they are ready to collect taxes.

30 Crowns

Craft 2 Grape Juice.

Craft Grape Juice at the Kitchen.

10 Crowns

Craft 1 Chocolate Bar.

Chocolate Bars are crafted in the Kitchen and require a Mill to Craft.

7 Crowns
Reward
For completing this mission you will get 2,000 Coins and 40 XP.
Ad blocker interference detected!
Wikia is a free-to-use site that makes money from advertising. We have a modified experience for viewers using ad blockers

Wikia is not accessible if you've made further modifications. Remove the custom ad blocker rule(s) and the page will load as expected.