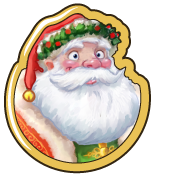 Let's visit your Neighbors and see how their holiday preperations are going!
Over River, Through Woods is quest 7 of 10 from the Save Kris Kringle mission you get from Kris Kringle . You get this Quest after finishing Cheer and Present Danger.
Tasks
Quest
Goals

Craft 5 presents from your Gift Shoppe.

Click on the Gift Shoppe and pick 5 items to craft.

Spread some Yulefest Love! Earn 10 Reputation.

Visit Neighbors and do activities in their Kingdom to earn Reputation.

Tend 3 Neighbors' GIft Shoppes.
Reward
Nothing dispels the Gloom like a little holiday cheer! For completing this mission you will get 1000 coins and 20 XP. You would also be able to start the A Creature is Stirring mission.
Ad blocker interference detected!
Wikia is a free-to-use site that makes money from advertising. We have a modified experience for viewers using ad blockers

Wikia is not accessible if you've made further modifications. Remove the custom ad blocker rule(s) and the page will load as expected.