"Hmm, your pantry is looking a bit bare. We'd better restock - but don't stop practicing your recipes!"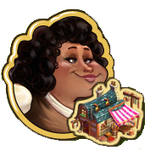 "Hampered Chef" is quest 8 out of 10 in the
Get Cooking
story line. You get it from
Mia
after completing "
Hampered Chef
".
Tasks
Harvest 30 crops in your Kingdom. Any kind you like!

Plant crops in empty Farm Plots and harvest them when they're ready.

Feed 30 animals in your Kingdom.

Click on animals when they're ready to feed them.

Keep practicing! Craft 10 items in your Kitchen.

Craft in the Kitchen.
Reward
"Well done, Sugar! It takes a lot of cooking to reach new Mastery Levels... and a lot of cleaning, too!"
For completing this quest you will get

1,750 Coins and

35 XP. You can then proceed to the Mia Culpa quest.

X's pantry is fully stocked!
X is restocking the pantry.
Get some Grapes to restock your own pantry!

Ad blocker interference detected!
Wikia is a free-to-use site that makes money from advertising. We have a modified experience for viewers using ad blockers

Wikia is not accessible if you've made further modifications. Remove the custom ad blocker rule(s) and the page will load as expected.