"According to legend, the Great Unicorn Migration is guided by happiness. Throw a Unicornucopia party to spread joy!"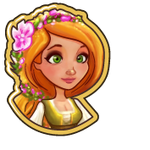 "Party Like Unicorns!" is quest 2 out of 10 in the
Unicornucopia quest
line. You get it from Yvette.
Tasks
Have 1 Pavilion to be ready for some partying!

Purchase 1 Decoration for your Kingdom to get ready for partying!

Buy decorations in the Decor tab of the Market.

Host 1 Unicornucopia party for everyone to attend.

You can craft an Unicornucopia Party Starter in the Pavilion.
Reward
"Now that the kingdom is overflowing with joy, the Great Unicorn Migration should begin! I can't wait!"
For completing this quest you will get

1,000 Coins and

20 XP. You can then proceed to the Exploration Go! quest.
X is throwing a party!
Who doesn't love a good party!
Take this Grape Juice and join in on the fun!
Ad blocker interference detected!
Wikia is a free-to-use site that makes money from advertising. We have a modified experience for viewers using ad blockers

Wikia is not accessible if you've made further modifications. Remove the custom ad blocker rule(s) and the page will load as expected.