"What are we waiting for? Let's get this party started so you can earn some prizes!"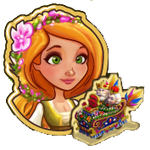 "Party On!" is quest 2 out of 5 in the
Party Time
story line. You get it from
Yvette
after completing "
It's My Party
".
Tasks
Craft a party for all your Neighbors to attend.

Craft in the Party Pavilion. As of May 2012, the Party Starter is a Puppet Booth.

Puppet Booth Cost




10 Wood Plank</li>
3 Old Sock</li>
2 Wool Cloth</li>

Get the Party Started!.

Place the Party Starter in your Kingdom to start the party!

Have 20 Purple Beads. You'll need them to craft your Party Prizes!

Ask your Friends for Purple Beads so visit someone throwing a party to collect them.

As of May 2012 this isn't necessary, presumably because Mardi Gras is over?
Reward
"Don't forget to invite all of your Neighbors to your party! The more guests that come to your party, the better your rewards."
For completing this quest you will get

3,250 Coins and

65 XP. You can then proceed to the Party Hearty quest.

X is coming' up...
...so we'd better get this party started!
Here's some Energy to keep the party going!

Ad blocker interference detected!
Wikia is a free-to-use site that makes money from advertising. We have a modified experience for viewers using ad blockers

Wikia is not accessible if you've made further modifications. Remove the custom ad blocker rule(s) and the page will load as expected.