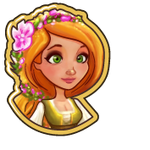 "If we show the Beasties some love, maybe they'll stop being so Gloomy!"
"Peace is the Answer" is mission 8 out of 11 in the Nature Lover Story Line. You get this mission from Yvette after finishing the For the Birds mission.
Tasks
Quest Image
Task
Skip
Have 1 Workshop in your Kingdom

Go to the Buildings section of the Market

? Crowns
Have 3 Wooden Clubs

You need 5 Wood and 1 Alchemist Powder per Wood Club

? Crowns
Sell 3 Wooden Clubs

Go to your Inventory and click Sell

? Crowns
Reward
For completing this mission you will get 750 Coins and 15 XP.
Ad blocker interference detected!
Wikia is a free-to-use site that makes money from advertising. We have a modified experience for viewers using ad blockers

Wikia is not accessible if you've made further modifications. Remove the custom ad blocker rule(s) and the page will load as expected.