"My vacation spot was so exclusive that I got lonely. I know! I need a pet I can take EVERYWHERE!"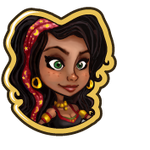 "Perfect Pet" is quest 6 out of 10 in the
Party Girl
story line. You get it from
Izadora
after completing
Vay-Cay
.
Tasks
Have 5 Mystery Meat to lure the Mink.

Task description here...

Gather 10 Eggs to feed the Mink.

Task description here...

Craft 1 Bedding for Izzy's new pet.

This item can be crafted when you have a Studio and a Tailor. Buy Crafting buildings in the Market.
Reward
Isn't she PRECIOUS? She's just the cutest thing in the Kingdom! I think I'll call her... Minkerbelle.
For completing this quest you will get Minkerbelle (a unique Mink). You can then proceed to the "Whoops" quest.
Meet Minkerbelle... she's so CUTE!
X helped Izzy find Minkerbelle, the cuddliest mink to ever fin in a handbag.
Have some Mystery Meat to lure your own mink!
Gallery
Ad blocker interference detected!
Wikia is a free-to-use site that makes money from advertising. We have a modified experience for viewers using ad blockers

Wikia is not accessible if you've made further modifications. Remove the custom ad blocker rule(s) and the page will load as expected.