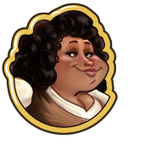 "The Duke is acting VERY strange. Stranger than usual! I guess maybe he didn't like the Cookies? I could bring him something else..."
"Piece of Cake" is quest 3 out of 10 in the How Sweet questline. You get it from Mia after completing "All Worked Up".
Tasks
Craft 2 Cakes.

Cake can be crafted in the Kitchen after building a Mill and a Bakery.

Have 10 Cotton Cloth to clean up after!

Cotton Cloth can be crafted in the Studio after building a Tailor or by collecting from a Tailor.

Collect 15 Pails of Water to wash it all down.

Pails of Water can be collected by fishing. Click on a Pond when fish are jumping out of it to fish.
Reward
"Mmm-mmm! Would you look at that? This Cake just might be my masterpiece, Sugar! Hurry let's get it to the Duke!"
For completing this quest you will get

5,250 Coins and

105 XP. You can then proceed to the Spruced Up quest.

Let them eat Cake!
X and Mia baked two Cakes for the Duke. Now he CAN have a Cake and eat one, too!
What's a Cake without Sugar? Bread? Click to get some Sugar.
Ad blocker interference detected!
Wikia is a free-to-use site that makes money from advertising. We have a modified experience for viewers using ad blockers

Wikia is not accessible if you've made further modifications. Remove the custom ad blocker rule(s) and the page will load as expected.