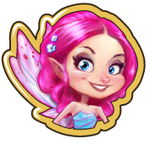 Pixie Mix
is the third of 10 missions in the
A Fairy's Tale
Quest.
Quest Text
I think I know of a potion - I learned about Fairy cuisine from the Queen of the Fairies herself. We used to date... It didn't end well.
Tasks
Quest
Goals
Collect 10 Berries.

Add 6 Eye of Newt.

Hint: Ask your Friends for Eye of Newt. You can also get this from fishing.</li>

Finish it off with a pinch of Alchemist Powder.

(2 Alchemist powders needed).</li>
Reward
"Mmmm, that was sooo good! Ah, I feel much better now. I really thought I was gonna die there! Wait - who are you, anyway?"
For completing this mission you will get

1,000 Coins,

20 XP.You will be able to start the Winging It Quest.
Ad blocker interference detected!
Wikia is a free-to-use site that makes money from advertising. We have a modified experience for viewers using ad blockers

Wikia is not accessible if you've made further modifications. Remove the custom ad blocker rule(s) and the page will load as expected.