"Someone's been stealing my Sweet Buns! We're gonna need to look around for clues. But first we'll have to replace the goods!"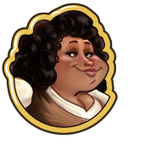 "Playing Detective" is quest 1 out of 5 in the
A Study In Sweet Buns
story line. You get it from
Mia
.
Tasks
Bake 3 Sweet Buns to replace the stolen ones.

Craft Sweet Buns in the Kitchen.

Tend 5 Flowers to search for clues.

Click on Flowers to tend.

Tax 3 Houses in your Kingdom to ask your subjects if they've seen anything.

Click on Houses to tax.
Reward
"Is this... a white hair? I think I smell the culprit who stole my Sweet Buns!"
For completing this quest you will get

1,750 Coins and

35 XP. You can then proceed to the "Corruption in Dukedom?" quest 2 out of 5.

X is on the case!
Something's rotten in X's Kingdom. Someone's been stealing Mia's Sweet Buns!
X can teach you a lot about detecting. Grab some XP!
Gallery
Ad blocker interference detected!
Wikia is a free-to-use site that makes money from advertising. We have a modified experience for viewers using ad blockers

Wikia is not accessible if you've made further modifications. Remove the custom ad blocker rule(s) and the page will load as expected.