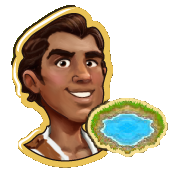 "When adventure calls, we must go wherever it sends us. Into the fire, eh, with minks, or into a cold shower. Yes, I have had a few."
"Polar Bear In Sheeps Clothing" is mission 8 out of 10 in the Adventure Club story line. You get this mission from Rafael after finishing the Fire Sale mission.
Tasks
Quest

Buy 8 Rivers to make an icy river.

Buy Rivers from the Market in the Nature tab.

Buy 5 Sheep to act as stand-ins for polar bears.

Buy Sheep from the Market's Animals tab.

Help out 1 time in 10 different Neighbor' Kingdoms.

Visit 10 different Neighbors and do activities 1 time in each of their Kingdoms.
Reward
"Ah, the polar bear swin! Polar bears learned that from me. I get residuals every time they get wet. Which is more often than would think."
For completing this mission you will get

3,250 Coins and

65 XP. You would also be able to start the Building A Better Beastie mission.

X is ready for a cold shower!

X has been getting frisky and is all hot and bothered about the rewards being shared!
Take a bath and collect your reward!

Ad blocker interference detected!
Wikia is a free-to-use site that makes money from advertising. We have a modified experience for viewers using ad blockers

Wikia is not accessible if you've made further modifications. Remove the custom ad blocker rule(s) and the page will load as expected.