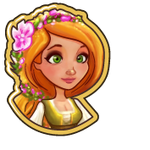 "Genevieve can be a bit... eccentric. But, once you get past her issues, she's really quite wonderful! Let's prepare Quinn to meet her."
"Prep and Pep" is quest 3 out of 13 in the To Woo a Maiden questline. You get it from Yvette after completing "Travel in Style".
Tasks
Tend 1 flower in Amouria to collect Love Dust for Quinn's journey.

Flowers in Amouria have a chance of dropping Love Dust when you tend them.

Collect from 1 Skeleton in Amouria to find Boyfriend Material.

Click on Skeletons of past boyfriends in Amouria to collect Boyfriend Material.
Reward
"It looks like Quinn is ready to take that journey through Amouria to Genevieve's tower!"
For completing this quest you will get

1,000 Coins and

20 XP. You can then proceed to the Breaking the Ice (To Woo a Maiden) and Put the Petal to the Mettle quests.

A Little Sheepish.
Uh oh! Quinn seems to be feeling a wee bit bashful.
Just because he's feeling sheepish, doesn't mean you shouldn't take advantage.
Ad blocker interference detected!
Wikia is a free-to-use site that makes money from advertising. We have a modified experience for viewers using ad blockers

Wikia is not accessible if you've made further modifications. Remove the custom ad blocker rule(s) and the page will load as expected.