"There's no way around it - we'll have to fight Lamont head-on. Let's prepare!"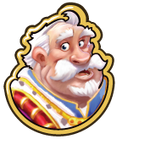 "Preparation" is quest 4 out of 8 in
The Lamont Swamp
story line. You get it from
The Duke
after completing "
Old Faithful
".
Tasks
Harvest 10 Cabbage. Boiling it will help get you used to exotic smells.

Plant Cabbage in empty Farm Plots and harvest it when it's ready.

Make the Gloom Swamp nice again by Cleansing 3 Swamp Roots.

Click on a Swamp Root once you have enough Talismans to purify it.

Craft 4 Exploration Crystals. You will need them if you are to reach Lamont!

This item can be crafted after you build a Workshop. Buy Crafting buildings in the Market.
Reward
"Aha! At last, we are ready to Lamont... I hope!"
For completing this quest you will get

750 Coins and

15 XP. You can then proceed to the "Finding Lamont" quest.

X is makin' it rain!
X's Cleansing Spring is cleaning up the Swamp and the Kingdom!
X was nice enough to save you a Pail of Water.
Gallery
Ad blocker interference detected!
Wikia is a free-to-use site that makes money from advertising. We have a modified experience for viewers using ad blockers

Wikia is not accessible if you've made further modifications. Remove the custom ad blocker rule(s) and the page will load as expected.