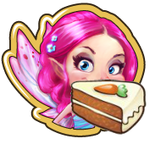 Project Mischief
is the 10th and final mission in the
A Fairy's Tale
story line. You get this mission from
Sylphie
after finishing the
Pint Sized Feast
mission.
Quest Text
Hey, let's do this one last thing and I can reside here as your Fairy Ambassidor. Us Fairies, we do love our shenanigans!
Tasks
Quest
Goals

Buy 3 Garden Gnomes. They just scream mischief!

Buy in the Decor tab of the Market.

Have 5 Love Letters to send to Rafael. Just don't tell him they are from Goblins.

Craft 1 Dye Kit so Sylphie can swap out Yvette's shampoo with some pink dye!

Dye can be crafted after you build a Studio.
Reward
"Keep those Garden Gnomes away from me! They get up to some crazy hijinx around 3 a.m."
For completing this mission you will get

1,500 Coins and

30 XP. You will also receive Sylphie's House.
Ad blocker interference detected!
Wikia is a free-to-use site that makes money from advertising. We have a modified experience for viewers using ad blockers

Wikia is not accessible if you've made further modifications. Remove the custom ad blocker rule(s) and the page will load as expected.