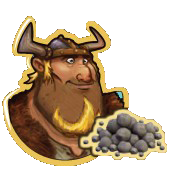 "Help George learn how to take care of Skippy"
"Proper Care" is quest 4 out of 6 in the A Pet For George quest line. You get this quest from George after completing Rock Show .
Tasks
Gather 10 Reputation. '''Help George take Skippy on a walk by visiting 10 Kingdoms.

Click on the Neighbor Bar to visit Neighbors.

Collect 25 Pails of Water. Collect 25 Pails of Water to help George bathe Skippy.

Collect Pails of Water by Fishing.

Collect 2 Skippy "Accidents". Clean up 2 of Skippy's "Accidents".

When you feed Skippy sometimes he has an accident
Reward
"Huzzah! Skippy is such a good boy. I bet I can teach him to fetch in no time!"

For completing this quest you will get

500 Coins and

10 XP. You would also be able to start the What Also Floats? quest.

So that's where gravel comes from...
George needs some help cleaning up one of Skippy's Accidents.
Lend a hand and get a Crystal Shard for your work.
Ad blocker interference detected!
Wikia is a free-to-use site that makes money from advertising. We have a modified experience for viewers using ad blockers

Wikia is not accessible if you've made further modifications. Remove the custom ad blocker rule(s) and the page will load as expected.