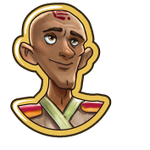 "I suggest you continue caring for the Unicorns while I do research into their magical nature! Soon we will have all the answers!"
"Proper Unicorn Care" is quest 5 out of 7 in the Inspiring Unicorns questline. You get it from Alastair after completing "Equine Protection Clause".
Tasks
Unicorns don't eat regular food. Have 8 Magic Beans.

Click on Farm Plots to plant new Crops.

Craft 1 Horseshoe to help support your Unicorns.

Craft Horseshoes in the Workshop.

Gather 4 Rainbow Feathers from adult Peacocks to create some more Creative Juice!

Click on Animals in your Kingdom to Tend them.
Reward
"At last I understand! I now know how the Architects used Unicorns to fight the Gloom."
For completing this quest you will get

1,000 Coins and

20 XP. You can then proceed to the Uni-Herd quest.
Facebook wall post message goes here
Ad blocker interference detected!
Wikia is a free-to-use site that makes money from advertising. We have a modified experience for viewers using ad blockers

Wikia is not accessible if you've made further modifications. Remove the custom ad blocker rule(s) and the page will load as expected.