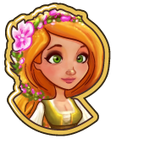 "This is it. Time to tell Rafael how I feel about him! I'll let my heart speak in the only language it knows: poetry!"
"Prose and Cons" is quest 7 out of 7 in the Signs of Affection questline. You get it from Yvette after completing "His Biggest Fan".
Tasks
Fill the Admiration Bar by crafting 5 Romantic Poetry.

This item can be crafted in the Studio.

Craft 4 Parchment to cover with doodled hearts.

This item can be crafted in the Studio.

Have 10 Red Feathers to use as quills for writing.

Feed Peacocks to find Red Feathers.
Reward
"My heart is fluttering! Quick, let's give him these poems before I lose my courage!"
For completing this quest you will get

3,250 Coins and

65 XP.
Facebook wall post message goes here
Ad blocker interference detected!
Wikia is a free-to-use site that makes money from advertising. We have a modified experience for viewers using ad blockers

Wikia is not accessible if you've made further modifications. Remove the custom ad blocker rule(s) and the page will load as expected.