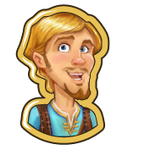 "We should collect as many Roses in Amouria as we can to create a HUGE bouquet for Genevieve!"
"Put the Petal to the Mettle" is quest 1 out of 3 in the Every Girl Loves Flowers questline. You get it from Quinn after completing "Prep and Pep".
Tasks
Tend 7 White Maiden Flowers in Amouria to find White Roses.

Flowers in Amouria sometimes reveal Roses when you tend them.

Tend 2 Roses in Amouria to collect White Roses for Genevieve.

Click Roses in Amouria to tend them.

Collect enough White Roses to fill the Spirit Bar for Genevieve's bouquet.

Collect White Roses in Amouria to fill the Spirit Bar and win great rewards!
Reward
"We'll have a HUGE bouquet of Roses ready in no time!"
For completing this quest you will get

1,000 Coins and

20 XP. You can then proceed to the Pick the Bloom Off the Rose quest.
Mess With the Rose, Get the Thorns
X just finished collecting White Roses for Genevieve's bouquet!
Take a sparkling white Diamond!
Ad blocker interference detected!
Wikia is a free-to-use site that makes money from advertising. We have a modified experience for viewers using ad blockers

Wikia is not accessible if you've made further modifications. Remove the custom ad blocker rule(s) and the page will load as expected.