"It's a charming inn or my name's not Quinn. After some food and some rest, I'll be ready for the Grand Opening."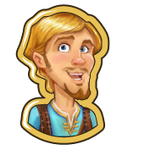 "Quinn Comes Inn" is quest 12 out of 13 in the
Inn and Out
story line. You get it from
Quinn
after completing "
Long Way Home
".
Tasks
Harvest 20 Tomatoes for Quinn. You just can't find them on the road these days.

Plant Tomatoes on Farm Plots.

Craft 4 Wood Planks to make some temporary benches. Everyone wants to see Quinn perform.

Craft Wood Planks in the Workshop.

Collect 10 Honey to make some sweet party favors for your guests.

Click on flowers to collect Honey.
Reward
"This inn is a charming addition to one of the greatest new kingdoms in the land. I will sing of its comforts far and wide."
For completing this mission you will get

1,750 Coins and

35 XP. You can then proceed to the Royal Inn Grand Opening quest.

They're living it up at X's Royal Inn!
It's such a lovely place.
Grab some Coins and make your reservation!
Ad blocker interference detected!
Wikia is a free-to-use site that makes money from advertising. We have a modified experience for viewers using ad blockers

Wikia is not accessible if you've made further modifications. Remove the custom ad blocker rule(s) and the page will load as expected.