''Busted for Riding under the Influence! Sonja loves Grog, but I'm never drinking it again. SERIOUSLY.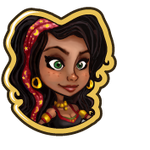 "RUI" is quest 8 out of 10 in the
Party Girl
story line. You get it from
Izadora
after completing
Whoops
.
Tasks
Sell Izadora's Wine. She doesn't need it anymore.

In your Inventory, click on Izadora's Wine to sell it.

Harvest 1 crop each in 8 different Neighbor's Kingdoms.

Visit 8 Neighbors' Kingdoms and Harvest 1 crop.

Have 2 Grape Juices for Izzy.

This item can be crafted after you build a Kitchen. Buy Crafting buildings in the Market.
Never Again! Grape juice ONLY for this Girl!!!
Reward
It's grape juice for me! Besides, if you're saving the world, I want to watch it!
For completing this quest you will get

1,750 Coins and

35 XP. You can then proceed to the "Scandalous" quest.

Izzy fell off the wagon!
Izzy drove her wagon into a ditch, but X pulled her back out. Again.
Get some Coins and hire a driver.
Gallery
Ad blocker interference detected!
Wikia is a free-to-use site that makes money from advertising. We have a modified experience for viewers using ad blockers

Wikia is not accessible if you've made further modifications. Remove the custom ad blocker rule(s) and the page will load as expected.