"Looks like Daddy hasn't been home for a while. Can you help fix up the house so the Gloom can't come back?"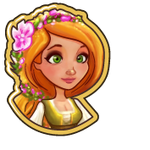 The 3rd of 10 missions in the Father's Love quest chain obtained from Yvette. It immediately follows the Homecoming mission.
Tasks
Quest Image
Task
Skip

Buy 4 Rivers to replace the old dried-up creek

Buy Rivers from the Market in the Nature tab.

? Crowns

Tend all the roots in the yard

Click on the Roots to tend them.

? Crowns

Build Yvette's Old Farmhouse

You need 10 Wood Planks, 10 Stone Blocks, 1 Bag of Nails, and 1 Hammer to build it.

? Crowns
Reward
For completing this mission you will get 2,500 Coins and 50 XP.

"Oo, it's all warm and inviting again, and I bet it's Gloom-proof! Wish it were also mess-proof."
Ad blocker interference detected!
Wikia is a free-to-use site that makes money from advertising. We have a modified experience for viewers using ad blockers

Wikia is not accessible if you've made further modifications. Remove the custom ad blocker rule(s) and the page will load as expected.