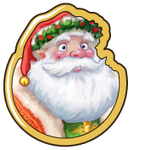 The 3rd of 10 missions in the Winter Vacation quest chain obtained from Kris Kringle. It immediately follows the Worth a Shot mission.
Quest Text
The Gift-A-Pult wasn't quite strong enough. I guess I may have overdone the Cookies this year. Can it be fixed?
Tasks
Quest
Goals

Collect 10 Pails of Water to put out any fires.

Tips: Fish to find Pails of Water.

Collect 4 Yulefest Cakes to revive Kris Kringle.

Tips: Ask Friends for Yulefest Cakes. You can also get this from fishing.

Buy 1 Snow Shovel to clean up the mess.

Tips: Buy a Snow shovel from the Market.
Reward
Our only option now is to rebuild. And no more Cookies for me - I promise!
For completing this mission you will get

500 Coins and

10 XP. You will also be able to start the Put a Spring in Your Step mission.
Ad blocker interference detected!
Wikia is a free-to-use site that makes money from advertising. We have a modified experience for viewers using ad blockers

Wikia is not accessible if you've made further modifications. Remove the custom ad blocker rule(s) and the page will load as expected.