Reeking Havoc
is a quest from
the Duke
to help explore the
Gloom
.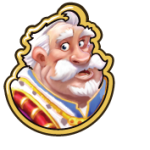 The source of this stench must be found! Once more into the Gloom, dear friend!
Search for the Gloom Swamp
Quest
Goal

Prepare for the adventure and raise your Castle to 170

Add to you Exploration fund by taxing 5 Buildings

Explore into the Gloom, looking for the source of the foul odor.

Hint: click show me to see which area to explore.
Reward:
1000 Coins, 20 Experience, you'll also begin the Gloom Vision Goggles quest if that area is not already explored.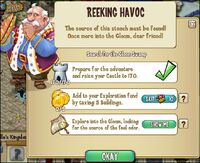 Ad blocker interference detected!
Wikia is a free-to-use site that makes money from advertising. We have a modified experience for viewers using ad blockers

Wikia is not accessible if you've made further modifications. Remove the custom ad blocker rule(s) and the page will load as expected.