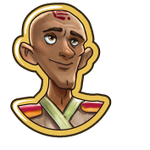 "Who knows how much treasure this Dragon Cave holds? I suppose there is only one way to find out!"
"Riches Galore" is quest 9 out of 9 in the Abandoned Dragon Cave story line. You get it from Alastair after completing "Into the Depths ".
Tasks
Use Faugrimm's Scepter Parts Machine 2 times to find Rifting Scepter parts.

Click Faugrimm's Scepter Parts Machine when it's ready to find Amber and other useful items.

Find 2 decorations in the Dragon Cave.

Click on the Dragon Cave to search it.

Rescue 2 animals from the depths of the Dragon Cave.

Click the Dragon Cave to search for treasure inside it.
Reward
"Given that the Dragon Cave is infinite, we should probably continue our search to see what else we can discover."
For completing this quest you will get

1,750 Coins and

35 XP, as well as 1 Dragon Treasure Chest.

X is looking for items to make Extraction Scepters.
It's a good thing X fixed up the Amber Locator!
Get a pail of water to help X cool off after all the hard work.
Ad blocker interference detected!
Wikia is a free-to-use site that makes money from advertising. We have a modified experience for viewers using ad blockers

Wikia is not accessible if you've made further modifications. Remove the custom ad blocker rule(s) and the page will load as expected.