"We must separate the Mythium from the Amythite. Conveniently, I recently developed some experimental Rifting Scepters. Build some."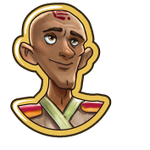 "Rifting Scepters" is quest 3 out of 9 in the Abandoned Dragon Cave story line. You get it from Alastair after completing "
Northward Bound
".
Tasks
Have 3 Jeweled Goblets to distract Gloom Dragons in case one shows up.

Ask your Friends for Jeweled Goblets. You can also get this from fishing.

Craft 1 Rifting Scepter

Rifting Scepters can be crafted in the Studio.

Remove 1 Amythite Rock to clear your path to the Dragon Cave.

Click on Amythite Rocks to remove them using Rifting Scepters.
Reward
"These Amythite fields seem to have been formed by the magic of the Dragon Cave! I bet there is some deeper connection to be discovered!"
For completing this quest you will get

1,500 Coins and

30 XP. You can then proceed to the How Convenient quest.

Through the Gloom
X and Alastair are making their way to the Abandoned Dragon Cave.
Get a Crystal Shard and fight off the Gloom along with them!
Ad blocker interference detected!
Wikia is a free-to-use site that makes money from advertising. We have a modified experience for viewers using ad blockers

Wikia is not accessible if you've made further modifications. Remove the custom ad blocker rule(s) and the page will load as expected.